About me
Find out the unknown stuff about me
Hey, nice to have you here on my page! This is my short bio: Born on September 7th, raisen in Ontario, Canada. Diagnosed Autistic and ADHD, I started transitioning at 13, and started Testosterone at 18. I got top surgery in 2019 and am happier than ever. I am bisexual and kinky as fuck. I love Bondage, Impact/Spanking, Wax/Sensation Play, Kitten Play, and Taboo Roleplay. My favorite foods are Sushi, Tex-Mex, Pad Thai, and apple pie! My favourite TV shows are The Witcher and The Mandalorian. My favorite gifts are smoking tools, money to get my nails and tattoos one, fetish and kink toys and gear, as well as general tips. You can also find my Amazon wishlist, and DeliveryCode wishlist on my Links Page.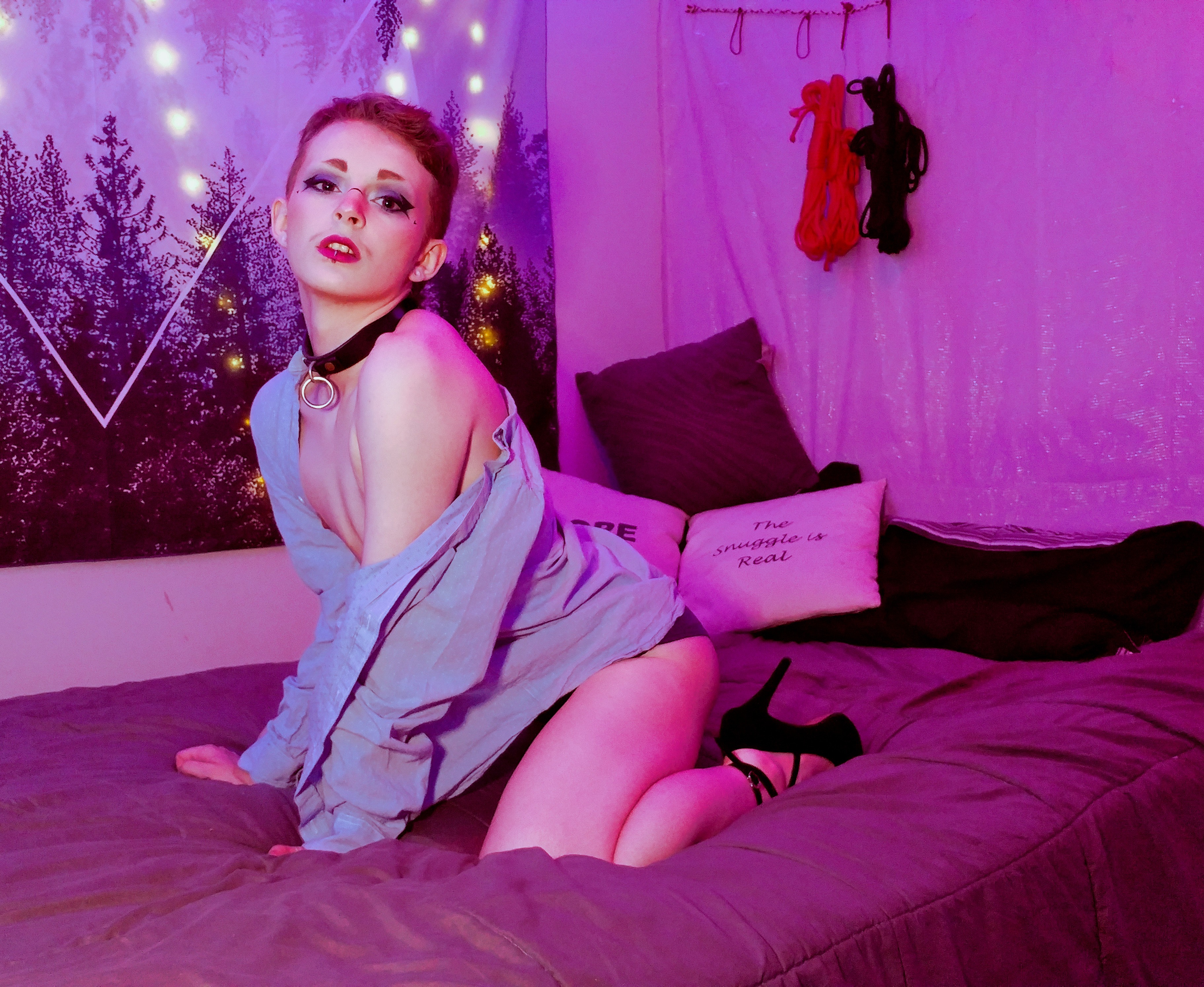 How did I become a sex worker?
... and why do you show those pictures and videos?
To be honest, I've always been a very sexual person. I just liked to explore different things and learn about fetishes and kinks. I wanted to be able to do all the fun scenes and exploration of myself and what's enjoyable for myself and others. Having so many of you guys, watching my videos and texting me here on my website, is just so cool! It's exactly what I wanted when I started this job. Plus, being disabled means being able to pick my hours is super important! Your support means the world to me.

You're kinky?
... What are your kinks and fetishes?
I love to do so much. I've had amazing experiences with flogging, spanking, and other kinds of impact play. I love pet play, specifically being a cute little kitten, and ageplay is so fun too! I adore bondage, it's a particular favourite of mine. Sensory play, with blindfolds, ice cubes, candle wax dripping (wax play), and so much more. I'll try almost anything at least once.

I'm bisexual to a fault, I love playing with all kinds of people. Gender doesn't matter to me, personally!

I'm a Trans Man, Female to Male! I'm a boy with a pussy, and I will block you without remorse if you call me a woman.

I love being a kinky plaything for those I'm with, fetish and BDSM play are some of my favoutite things. From first timers to experienced lovers, I'm down for it all.

With my first tattoos gotten on July 29th, 2020, and more on the way, I'm determined to be your fave tatted trans boy! I will always accept offers to have you pay for them!

I have my lip and tongue pierced, and I have so many more planned! Feel free to ask me about what I have planned and how you can finance it!!

I'm applying for college to start in January! Come join me on my journey!!

Sign up and get in touch with me
100% safe, anonymous & original me! Don't let me wait!
When registering on my official website, you'll get access to my private fan content and direct communication with me. I will also inform you about bonus offers and my special events in a monthly newsletter!